Surveillance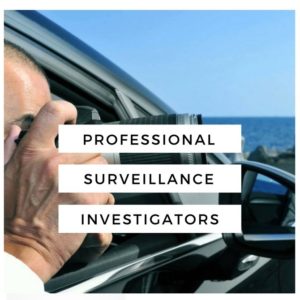 Surveillance is the close observation of a person, place, or object. It is the practice of watching a subject in order to document and identify any of the contact, interactions, or whereabouts of the subject. Our investigators conduct all types of surveillance that include the following activity:
– Workers Compensation
– Domestic & Matrimony Infidelity
– Personal Injury Cases
– Product Piracy
– Workplace Theft
– Drug Trafficking
Who Should Conduct Surveillance?
Our investigators are licensed and insured to provide surveillance and to gather evidence through audio and video equipment. A professional investigator is often the most effective way to observe someone or something. Investigators are trained for years in order to be able to track down alleged criminals or uncover dishonesty in any form. Our investigators are well-versed in current laws and often work with police and police investigations so you don't have to worry about legal impediments when you entrust your surveillance needs to us. Our investigators have access to various types of surveillance equipment, and special vehicles–that can make surveillance more effective. If surveillance reveals illegal activity, evidence gathered by our investigators often stands up in court much better than evidence gathered by the average citizen.
Looking for a Surveillance Investigator?
Beware! It is a common practice for private investigation firms to sub-contract the cases they receive from their clients to other investigators. This is done for  several reasons. Most firms are under staffed and are not really a big firm as they advertise on their websites so they need to sub-contract a lot of the work out. The other reason is most private investigators do not like to do surveillance so they rather stay at the office and give the cases to other less experienced investigators who will take cases at a lower hourly rate.
At our firm all surveillance assignments are conducted by our in-house team made up of highly professional licensed private investigators who are former law enforcement officers. Our investigators have been involved in thousands of hours of surveillance involving complex cases usually in high crime areas. Our team is highly trained and experienced which makes us the perfect choice in working any type of case.